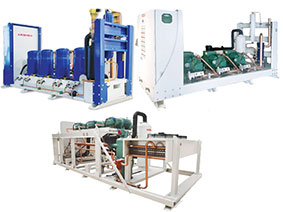 Parallel Compressors System
In 2008 in order to improve the quality standards of the refrigeration industry and reduce energy consumption, Arshehkar Industrial Co., launched the production of central power plant systems. Since the establishment of this company, we have always tried to improve the level of our products.
We provided all of our designs and calculations to BITZER Germany, after months of lengthy meetings and controlling the production of the company and the examination of numerous examples of projects implemented by Arshehkar Co. by BITZER Company for the first time in the Middle East region, We were finally granted the Rack and Condensing Units quality certification from German Bitzer Company. since then all of its products are under the control and supervision of Germany's Bitzer company.
The advanced and fully automatic machines of Arshehkar have considerably raised the quality of its products.
We could proudly assure all the Consumers and customers that the manufactured products of the Arshehkar are in accordance with international standards. It should be noted that Arshehkar Company designs and manufactures its production standards based on the special weather and climate conditions of each project.
This has facilitated after-sales service and ease of providing service to the customers. The wide range of dealers throughout the country has provided the service in all stages of consultation, design, installation and after sales service in the best possible manner.
ADVANTAGES:
– Use of two or more parallel compressors
– Use a central condenser for the entire system
– A common back and forth line for compressors
– Integrated system control
– Optimizing energy consumption by Reducing the number of compressors on and off
. Accelerating the required temperature
. Significant reduction in mechanical parts depreciation
. Reducing the number of compressors
. Reduce operating time during storage
. Use a whole system condenser
Comparison between unit systems, rack and pump (ammonia) under the same conditions
Rack application in supermarkets:
Supermarkets and grocery stores are one of the places where the use of the Freon Central Motor System, in lieu of a large number of compressors for each refrigerator (independently or semi-autonomously), has a short and long term technical and economic justification. These stores use hermetic piston racks, hermetic pistons or scrubs depending on the limited capacity required.
Parallel Compressors System